Visual 'Prestige' Credenza units
Visual – 'Prestige' credenza units
designed by Studio Verco
Credenza unit with four doors with an MFC carcass, and black legs and including a fridge unit in the right-hand cupboard.
With flush-fitting, inset doors and touch-latch door closures these Prestige credenzas are sleek in style with architectural aesthetic qualities, considered proportions and clearly defined linear forms.
All units feature a single adjustable shelf. Two-tone finishes can be specified for the doors, as an optional extra, using different MFC, laminate or linoleum finishes.
Dimensions: 1946 x 500 x 700
Finishes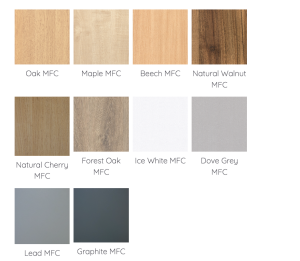 Options
+ 5% for alternative colour/finish Verco MFC doors
+ 10% for Formica fundamentals laminate doors
+ 20% for Fenix matt laminate black or white finish doors
+ 25% for alternative Fenix matt laminate, or Forbo linoleum surfaced doors with ABS lipping to match the carcass